American Ford Parts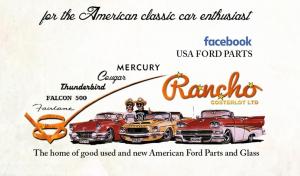 American Ford Parts Image ©
The home of good used Mustang and American Ford Parts
Kaikoura Beach Hop 2015‏
Spring Weather is always variable and this weekend was certainly one extreme to the other
We left Nelson in Convoy with a few car dramas which is not unexpected with old cars that have been sitting for too long over winter. The weather was dubious to begin with but by the time we reached Blenheim it was a beautiful 19 degrees.
In spite of misgivings about the prices and service at the Store in Kekerengu we stopped for a drink and a bite.
The prices were the usual - Airport prices - and Wayne copped a Seagull deposit which was a bit of humour.
Down the coast there was lots to see, the Seals were playing on the rocks and the roadworks resulted in a longer convoy of interesting vehicles to look at.
Having been able to register for the Hop online meant we did not have to line up for hours and could just meet up with old friends for a few drinks and dinner at our favourite Thai restaurant where we were treated as old mates!
Back to the motel it was still warm enough to sit outside and watch the cars go by.
Sometime after we went to bed I was woken by a lot of rattling and banging outside, peeked out to see the wind had got up to a good gale. When I opened the door a crack, it was icy!
Morning was grey and freezing cold, luckily we had plenty of warm and waterproof clothing.
One of our group had bought her Betty Boop Outfit but very sensibly didn't try and wear it.
There were lots of great cars to look at and lots of old friends to catch up with. Numbers were well down on last year but I think the weather can take the blame for that.
After a few hours we went to one of the local Cafes for lunch and a thaw out. Unfortunately Kaikoura in general does not seem interested in catering for the influx of people over the Hop weekend. We have noticed this over the years we have been going to the Hop, and, with a couple of exceptions, there are never enough staff on to provide good service which is a real shame and a missed opportunity for the local businesses.
Well rugged up, we watched the cars cruise the strip from our Motel while enjoying some warming refreshments and catching up with people from all over.
We left for home the next morning and the temperature was still 7 degrees but by Blenheim it was sunny.
Let's hope next year it's a bit warmer next year - both the weather and the welcome from local businesses.