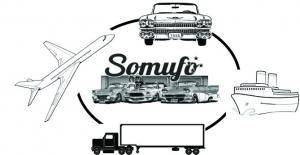 Process for Importing Classic American Cars into New Zealand Image ©
Import vehicles and parts from the USA
We are happy to arrange Import of vehicles on your behalf or parts from the USA. Development & Distribution of reproduction Classic USA vehicle parts including Export to the USA
Importing vehicles from the USA and other countries has become easier and therefore more frequent in the last few years. The high exchange rate with the USA has fuelled this increase.
It pays to do your homework well before importing as there are many traps for the unwary. The LTSA website NZTA is a good place to start - you can find out the current legislation pertaining to the vehicle you are interested in buying. These rules change frequently and different rules apply to different ages of vehicles and their intended use, once the vehicle is here you are stuck with it so homework is well worth the effort!
We have several very reliable spare part "spotters" in the USA/America. We know and trust these people and you will see cars they have for sale in the classified section of the website.
Getting the vehicle to the shippers once purchased can be arranged by us or you can organize your own, we ship out of LA and we have used the same packing and freight companies for many years.
If you find a vehicle yourself we are still happy to arrange getting it to NZ.
We unpack the containers ourselves and can organize freight within NZ as well.
The most important thing (apart from the car being as described) is to make sure all your paperwork is in order before it leaves the USA. We are happy to advise or point you in the right direction to answer any questions.